Hearings on same-sex marriage in Vermont, which began today, got a late start in Montpelier after hundreds of people arrived to witness the arguments and voice their opinions: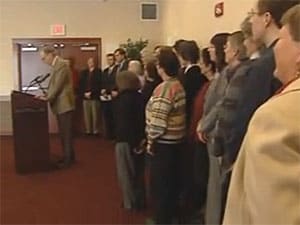 "The show of force came particularly from opponents, clad with stickersthat read, 'Marriage: A mother and father for every child.' … 'I think this is just the start of it,' said Stephen Cable, president of Vermont Renewal, an opposition group. The Senate Judiciary Committee is expected to take testimony all week before passing a bill by Friday. StatehouseSergeant-at-Arms Francis Brooks limited the number of people who couldenter the hearing room, then urged them to refrain from applauding orbooing in response to testimony. Testimony that was scheduled to begin at 12:30 p.m. had not begun yet at 12:50 p.m."
Meanwhile, the anti-gay group National Organization for Marriage has begun airing "Don't Mess with Marriage" ads across northern New England. Listen to their hideous misleading ads on the NOM site.
Friday, a group of more than 300 lawyers representing approximately 15% of the state Bar held a news conference (pictured) in support of legalizing same-sex marriage in the state.
Earlier this month, lawmakers expressed confidence that the bill would pass this session.
Watch a news report on the conference, AFTER THE JUMP…