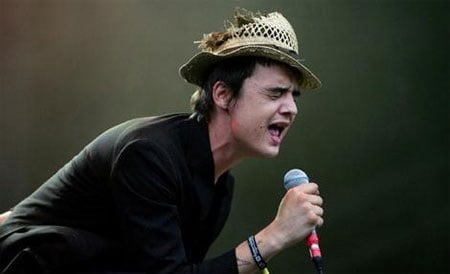 Pete Doherty, who has just released a solo album (I posted the lead track with its male kiss recently), says "a burly Scotsman" nearly caused him to quit music after giving him a wedgie at a concert:
"The Babyshambles frontman was reduced to tears when he was grabbed
in his nether regions as he stage dived during a gig… The
singer admitted he was so put off by the unusual welcome, he fled the
stage and took shelter in the tour bus until the gig finished. He
said: 'I hid in the tour bus crying. The gig was going great, so I
thought, 'I'll dive in,' and this big Scotsman just grabbed hold of my
pants and said, 'Cop a load of this, Doherty.' Those were his exact
words.' The embarrassed former Libertines star let it slip that
he was too embarrassed to tell his bandmates the reason behind his
escape from the stage and even told them he wanted to quit the group. 'When
they found me on the bus I was crying my eyes out, going, 'The band's
not working out. We should split up.' Nobody believed that was what was
wrong, and eventually I snapped, 'All right, I got a wedgie, OK?''"