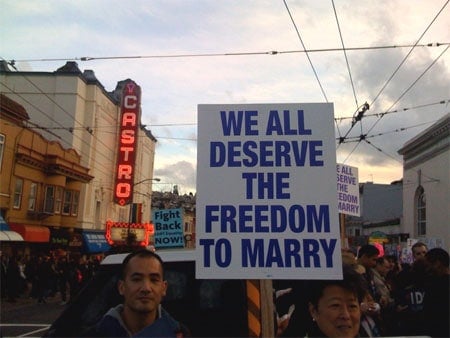 Vigils were held across California on Wednesday night in anticipation of the Supreme Court arguments on the constitutionality of the voter-passed Proposition 8, which banned same-sex marriage in the state and revoked the marriage rights of millions of people. It's likely to be the most watched hearing in the state's history, and you can watch it too if the servers are not overwhelmed, right here.
We'll have news on the hearings as it comes in. Top photo from our reader Joe Rodriguez.
Here are some updates and news links about last night's vigils:

Rex Wockner has an update from San Diego. I posted some of his news last night.

SF Chronicle: "Supporters of same-sex marriage marched from the Castro district to thestate Supreme Court on the eve of a hearing to decide the fate ofProposition 8 – the controversial amendment to the state Constitutionthat bans marriages of two men or two women."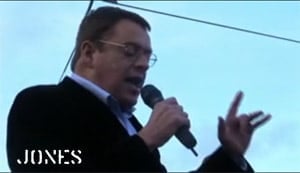 San Francisco: Sean Chapin sent us some GREAT video coverage from the event, which you can watch, AFTER THE JUMP. In one video, longtime activist and friend of Milk Cleve Jones speaks to the crowd. In the second, Chapin reports, "An 11-year-old boy named Sam who has two mothers and wrote a letter to Assemblyman Michael Duvall who opposed gay marriage telling him to support the CA legislative resolutions to oppose Prop 8.  He really wowed the crowd, and Mark Leno shook his hand right after his speech." In the third, "James Brosnaham, (I believe) a senior partner at a prominent law firm in San Francisco.  His speech was incredibly eloquent and ended on such a poignant, emotional note that it electrified the crowd."
Watch the video clips, AFTER THE JUMP…

Los Angeles L.A. Times: "As rain fell and the song 'Fidelity' blasted through the sound system,Los Angeles Mayor Antonio Villaraigosa presided Wednesday night overthe "recommitment ceremonies" of half a dozen gay couples who marriedduring the five-month period that such weddings were legal inCalifornia…Many of the 200 or so people who attended Los Angeles' vigil said theydid not expect their demonstration to influence the justices who willdecide whether Proposition 8 is valid."

Mercury News, San Jose: "As similar scenes playedout across the state, San Jose gay-rights activists marched tonight inquiet solidarity on the eve of legal arguments before the CaliforniaSupreme Court about the validity of Proposition 8, which bannedsame-sex marriage. 'This is about equality. We should get thesame rights as everybody. We pay taxes just like straight people, wehave families and we're even in the armed forces,' said Arlene Jimenez,of San Jose who married her longtime partner last October. Wednesdaynight, Jimenez held a makeshift candle and joined about 150 others whoringed the intersection at Winchester and Stevens Creek boulevards nearSantana Row. There, groups holding huge banners supporting gaymarriage, walked each corner, occasionally chanting, 'Gay straight,black, white, marriage is our civil right.' As they did so, cars passing by honked in support."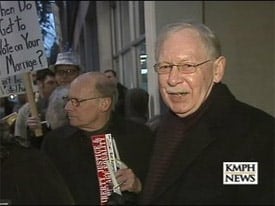 KMPH Fresno: "On a drizzly day in downtown Fresno, dozens marched in the cold to put heat on the Supreme Court. 'We ought to be treated like equal citizens,' Proposition 8 opponent, Ellis Vance, said. Vanceand Robin Greiner have been together for almost 43 years, and justbefore their 42nd anniversary last October, they legally became husbandand husband. 'We never thought we would get to the point where we would really be able do that in our lifetime,' Vance said."

The Mercury News today also profiles the Pope family, a Santa Cruz couple who crusaded for passage of Proposition 8 while their daughter fought against it with her lesbian partner and daughter from their home in Salt Lake City, Utah.

NPR: Big profile on SF Mayor Gavin Newsom today.
Watch three clips of the San Francisco action, AFTER THE JUMP…

Cleve Jones:
Sam:
James Brosnahan: