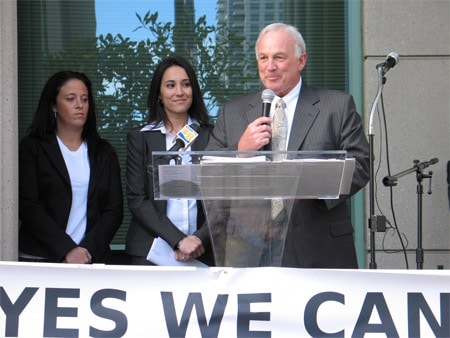 I've received word from Rex Wockner, who is at the Eve of Justice rally outside the Hall of Justice (court house) in San Diego, that Republican Mayor Jerry Sanders,  whose marriage equality turnabout at a shocking and emotional 2007 press conference you may remember, announced that his daughter Lisa Sanders is engaged to her partner Meaghan Yaple.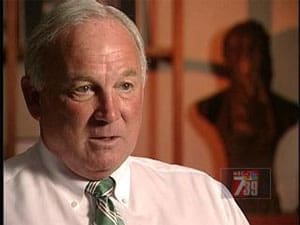 Let's hope she'll soon be able to marry.
Tomorrow, the California Supreme Court is hearing arguments challenging the constitutionality of the November ballot measure which banned same-sex marriage in that state. This evening, candlelight vigils and rallies are being held across the state in support of marriage equality.
Wockner reports that approximately 500 people are in attendance at the San Diego rally. He considers it a very good turn-out as the vigil began at 4 pm, during business hours.
UPDATE: Rex has updated his site with the photo above, and many more photos from the San Diego rally and vigil.
I've posted the Sanders press conference from 2007, AFTER THE JUMP…