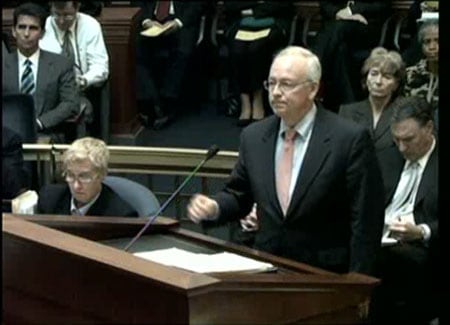 Well I'm no legal scholar but it didn't look good to me, folks. I hope I'm wrong. Looks like we've got a long row to hoe. The court has 90 days to rule.
Didn't look good to the Mercury News either.
Two quick impressions, just from watching the proceedings, were that Justice Joyce Kennard, who was in the majority 4-3 ruling for the
legalization of same-sex marriage last May and was the only justice in
that majority to vote against hearing the challenges to Proposition 8
seemed to take an immediately aggressive position toward those
challenging the measure. And Kenneth Starr, who immediately followed a rather bumbling and hesitant performance
by Christopher Krueger, senior assistant attorney general under
Attorney General Jerry Brown, displayed an almost arrogant ease in the courtroom
that was only magnified by Krueger's fits and starts. I should add that I thought Shannon Minter and Therese Stewart both did very good jobs in arguing the case.
The L.A. Times reports: "[Chief Justice Ronald] George seemed to signal that the justices' hands may be tied in
invalidating ballot initiatives that amend the constitution, as
Proposition 8 did. 'That is the system we have to live with until and
unless it is changed,' the chief justice told the initiative opponents."
Here's the paper's summation: "During a three-hour televised hearing in San Francisco, only two of the
court's seven justices indicated a possible readiness to overturn the
initiative. Chief Justice Ronald M. George noted that the court was
following a different Constitution when it approved gay marriage last
May. 'Today we have a different state Constitution,' he said. Justice Joyce L. Kennard, who usually votes in favor of gay rights,
voted against accepting the revision challenge to Proposition 8 but
said she would hear arguments over the validity of existing same-sex
marriages. Kennard said during the hearing that 'Prop. 8 did not take away the
whole bundle of rights that this court articulated in the marriage
case.' She said that 'a very important holding' – giving sexual orientation
the same constitutional status as race or gender – was not changed. 'Is it still your view that the sky has fallen and gays and lesbians are left with nothing?' she asked gay rights lawyers? Kennard told them they also had the right to return to voters with their own initiative.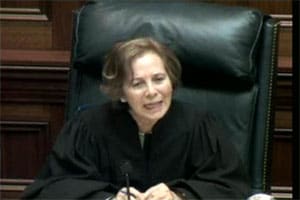 SF Chronicle: "Justice Joyce Kennard…said at one
point that opponents of the measure would have the court choose between 'two rights … the inalienable right to marry and the right of the
people to change the constitution as they see fit. And what I'm picking
up from the oral argument in this case is this court should willy-nilly
disregard the will of the people.'"
L.A. Times: "An interaction between Chief Justice Ronald George and Kenneth
Starr, who is defending Proposition 8, gets to the heart of the
argument. Starr argues that voters have an inalienable right to amend the state constitution as they see fit through simple majority vote, including 'things that tug at the equality
principle.' But George leans in on the question and asks whether, if
Proposition 8 had specifically said that homosexuals had no right to
form a family relationship or raise children, that still could be done
by amendment? Starr replies yes. George pursues it further, asking if California voters could remove the right to free speech? Starr says yes."
What were your thoughts? Impressions?
UPDATE: Good As You has audio archives of the arguments up.
There's a video archive here.
If anyone locates an embeddable video archive, let me know at tips – at – www.towleroad.com and I'll post it up.