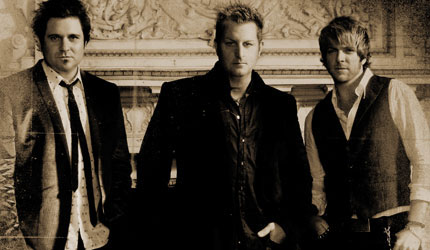 Gary LeVox, Jay DeMarcus, and Joe Don Rooney, the trio who make up the country pop band Rascal Flatts, released a new single today called "Love Who You Love" which some of their fans are interpreting as an anthem of acceptance and love for their gay fans because of its non-gender-specific lyrics. The band is welcoming that interpretation.
LeVox tells CMT: "We actually have some gay people that work with us, and we have alot of friends that are gay, too, and I know that this song hasinspired them. I know that coming out was tough on their parentsand on them and the whole entire family. For a long time, some of themdidn't get to hear 'I love you' from their dads or be accepted in thatway. It's helped a lot of our friends."
Guitarist Rooney adds: "That's what's cool about our music. You can interpret (it like) that. Ifyou get that — it's perfect. If you are someone who's gay or someonewho's straight, you still feel something from the song, and that's whatwe want."
Said DeMarcus, who plays bass: "We don't judge anybody's lives."
Listen to the track (YouTube while it lasts), AFTER THE JUMP…
"Love Who You Love"