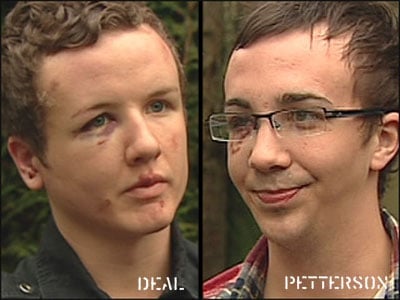 Samson Deal, 22, and Kevin Petterson, 22, two Seattle-area men who were taking a spring break weekend on the Oregon coast at Seaside, were beaten unconscious around 3 am early Sunday morning after leaving a beach campfire they were sharing with some other people and taking a walk together.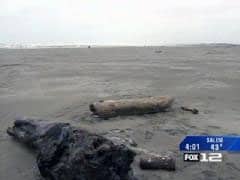 KOMO4 reports: "When Deal and Petterson finally came to, the two nursing students knew just how serious their injuries were. 'The whole event — I really don't remember a lot, because I sustained a lot of head trauma,' said Deal. 'I've never had a face trauma like this or anything like that. It's pretty bad,' Petterson said.  Thinking back to the attack, the two men said they believe it was their sexual orientation that made them a target. 'All of the sudden, someone asked if were gay, called us 'fags,' then started punching us,' said Deal. The victims said three or four young men dressed in black attacked them, letting loose punch after punch. Theattack left the two men severely injured and bruised. Petterson's righteye is so badly damaged he plans to see a plastic surgeon on Wednesday"
FOX12 reports: "Investigators said the beatings are hate crimes. The Seasidepolice chief said he has put two full-time detectives on the case andthey are trying to find any witnesses who were on the beach Sundaymorning and may have seen who was responsible for severely beating thetwo men. There were several people who were sitting next to the fire in front ofthe Best Western Hotel at the time of the attack and police would liketo talk to them. Anyone with information in the case should contact Seaside police."
Watch KOMO4's interview with the couple, AFTER THE JUMP…