Just as the first snippets of Bruno were being screened to preview audiences at Austin's SXSW festival, it was reported that Sacha Baron Cohen had targeted two more entities for his Borat-style comedy about a gay Austrian news reporter.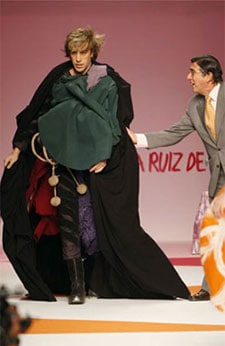 Baron Cohen tricked the Alabama National Guard into allowing him to embed with them for a short while:
"The ruse, which included comedian Sacha Baron Cohen exposing histhong underwear while changing clothes, was going well until a youngcadet recognized Cohen and notified older officers who weren't familiarwith the actor. 'It's an embarrassment to the Alabama NationalGuard,' Staff Sgt. Katrina Timmons said Monday. 'Since then we have putin protocols to make sure this doesn't happen again.' A film crewpulled the stunt Feb. 13 at the Alabama Military Academy, which trainsofficer candidates from across the nation. The school is located at theArmy's old Fort McClellan in Anniston, about 65 miles east ofBirmingham."
"Bruno" also punked former presidential candidate Ron Paul, Slate reports: "In a five-minute scene, comedian Cohen tries—and fails—to seduce theTexas congressman and former Republican presidential candidate in aWashington hotel room. A spokeswoman for Paul confirmed the appearancebut declined to discuss details, which were provided by two people whoattended a test screening last week."
TheBrunoMovie.com talked to critics outside the screening in Austin. Watch it,
AFTER THE JUMP…