Sacha Baron Cohen's much-anticipated follow-up to Borat will preview this weekend at Austin's South by Southwest (SXSW) film, music and web festival. It's being billed as a sneak-peek of footage, so guests won't likely see the whole film.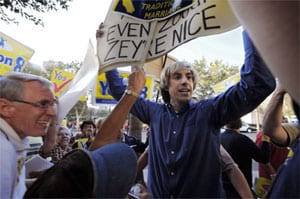 Dark Horizons writes: "This will be the VERY FIRST audience anywhere to see footage from
the film. No badge is needed and its free, but go early to guarantee
admission. Those interested should show up (well before the scheduled 11 pm screening time) at the Alamo Drafthouse, 1120 S. Lamar Blvd this Sunday."
Ain't It Cool News posted two incredibly positive reviews of the film today.
Bruno, which follow's Baron Cohen's gay Austrian news reporter character, has been making headlines around the country all year because of the filmmaker's stealth approach to shooting. In addition to staging a gay orgy, Baron Cohen crashed fashion shows earlier this year in Paris and Milan, caused havoc at a cage fighting event in Arkansas, go-go danced in the middle of a Wichita airport terminal, and duped Ben Affleck as well as a former Israeli spy into doing serious interviews with him, and crashed a "Proposition 8" rally two days before the election where he was photographed and caught on film by another media outlet.