Five Democratic lawmakers introduced a same-sex union bill in the Minnesota state senate yesterday, the Star Tribune reports: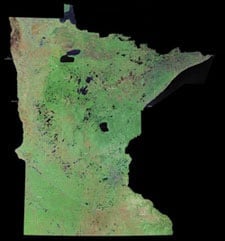 "A bill that would define marriage as a civil contract between 'two
persons,' rather than a man and a woman, was introduced in the state
Senate, sponsored by five DFL members. It has been referred to the Senate Judiciary Committee, but no hearings have been scheduled. The bill would strike language from state law that specifically
prohibits marriage by persons of the same sex, along with language that
refuses to recognize same-sex marriages from another state or country…In an apparent attempt to soften some opposition, the new bill states
that nothing in it 'mean[s] the state of Minnesota condones
homosexuality or bisexuality or any equivalent lifestyle,' or allows it
to be promoted as such in the state's public schools."
Opponents of same-sex marriage have said they will try to pass a measure declaring marriage between a man and a woman in 2009, even though two attempts have failed to get out of the legislature in the past.
One thing we know for sure: openly gay state senator Paul Koering won't be supporting the measure. He considers it a "pointless issue."