San Francisco Archbishop George Niederauer of the city's Most Holy Redeemer church, has canceled a scheduled performance of Be Still and Know, a play based on the book The God Box, which explores "the Bible's view on homosexuality and the struggle adolescents have with their sexual identity and their identity as Christians."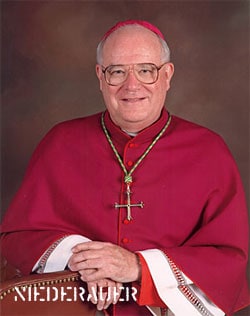 California Catholic Daily reports: "The God Box,published in 2007, won an award from the Lambda Literary Foundation, 'the country's leading organization for LGBT writers and readers,'according to the group's web site. Among those who have praised the The God Boxis Episcopalian Presiding Bishop Katharine Jefferts Schori, who said ofthe book, 'Alex Sanchez evokes the crucifying experience of adolescentswrestling with their sexual identity and their identity as Christians.He does a remarkably faithful job of opening up long-abused biblicalpassages often used as proof texts to denigrate homosexuality.'"
Niederauer was recently in the news after his parish was hit by vandals, who tagged it with anti-Prop 8 graffiti. Niederauer's activity surrounding Proposition 8 was noted last December.
On the flipside, Most Holy Redeemer is known to have many gay parishioners and Niederauer came under fire in October 2007 by Bill O'Reilly for serving communion to two Sisters of Perpetual Indulgence.

That clip, AFTER THE JUMP…