Hoping to make some strides against homophobia in British football, a team has named itself after former Nottingham Forest and Norwich player Justin Fashanu (above, right), an openly gay player who took his own life at the age of 37.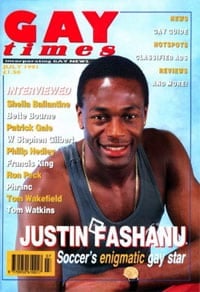 The BBC reports: "The Justin Fashanu All-stars were launched at a special event in Brighton, supported by the FA. The team has been created by the Justin Campaign which promotes the inclusion of openly gay players in football.
The pink and black team kit which is sponsored by
DJ Norman Cook, better known as Fatboy Slim, was unveiled at the event
on Saturday. The side, which is open to gay or straight footballers, is to play
its first fixtures at the Gay Football Supporters Network five-a-side
tournament in Yorkshire. Jason Hall, from the Justin Campaign, said: 'We decided that
the best thing to do was to have a campaigning football team so the
football does the talking. Hopefully [we'll] change people's opinions of gay people on the pitch.'"
Fashanu remains, to this day, the sport's only openly gay player. At the time of his death, following an injury that hampered his career, there were apparently allegations of sexual assault of a teen in the U.S. which he denied in his suicide note and claimed he would be treated with bias because of his sexuality: "The coroner recorded a verdict of suicide, saying Mr Fashanu had
appeared to triumph over prejudice about his colour and his
homosexuality but the pressures, coupled with the alleged incident, had
overwhelmed him."