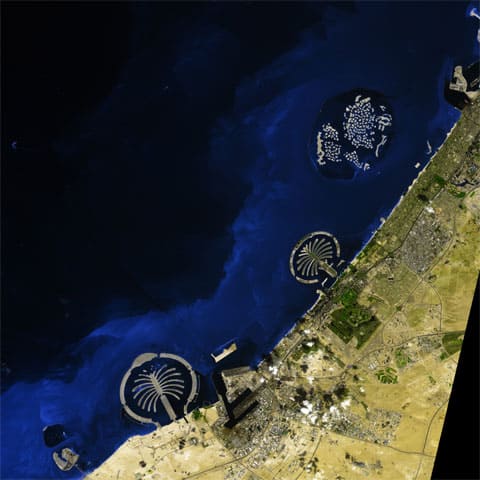 NASA's Earth Observatory has posted two shots of the obscenely extravagant land development/reclamation project off the coast of Dubai known as 'The World'. They report: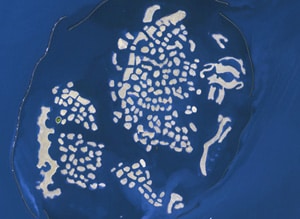 "This pair of images from the Advanced Spaceborne Thermal Emission and Reflection Radiometer (ASTER) on NASA's Terra satellite show the development of the archipelago known as 'The World.' The top image shows the project on February 5, 2009. All the continents are represented (the "map" is tilted toward the left). A breakwater surrounds the archipelago, and its role is obvious: outside the perimeter, especially to the northwest, the waters of the Gulf ripple with waves that would wear the artificial islands away. The bottom image shows the project on November 13, 2004, when dredging and building were just getting underway.
Only one of the islands that make up 'The World' appears to have achieved its full potential as a manmade tropical paradise. One of the islands in western Greenland has been landscaped, and it appears as a single green dot among its sand-covered neighbors."
We should note that while all this may be interesting from a distance, Dubai remains a 'world' that is not welcoming to gay people and this post is certainly not meant to be seen as an endorsement of it.