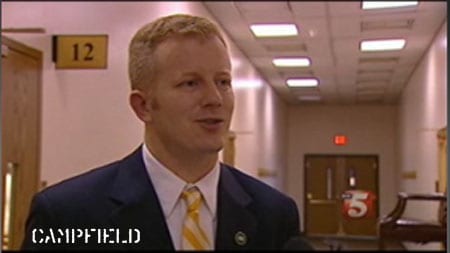 Tennessee lawmaker Stacey Campfield has reintroduced a bill that would ban any discussion of homosexuality or gay-themed material from public schools in the state:
Newschannel5 reports: "Campfield filed, the 'Don't Say Gay' bill, which would essentially ban teachers from talking about the topic. 'Ithink our teachers need to stick with reading, writing, andarithmetic,' Campfield said. 'It confuses a lot of children that arealready in a difficult part of life, and it's a very complex issue.' Campfieldpointed to newspaper articles as examples of where homosexuality wasbeing taught in schools, like a program in Knoxville that containsinformation on aids, gay and lesbian sex. He said second graders hadaccess to the information. 'Let's take this off the table,lets not talk about this to very young children, I don't see a problemwith that,' Campfield said."
Campfield denies his intention is homophobic: "Homophobic means you're afraid of something. I think its a complex issue. This bill is neutral. It doesn't say we are going to preach against it. We are not going to preach for it; we are going to leave it neutral."
The good news is that legislators have postponed discussion of the bill.
Campfield introduced the same bill last year. It was killed in committee after the Tennessee Education Association, the ACLU,and the state Department of Education spoke out against it. Some homophobes never give up.
Watch the Newschannel 5 report, AFTER THE JUMP…