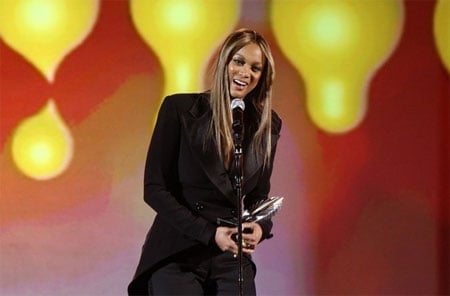 Clay Aiken presented Tyra Banks with GLAAD's Excellence in Media award at New York's GLAAD Media Awards over the weekend. In accepting the award, Tyra talked about how she began to realize how the discrimination she faced as a Black model was the same faced by the LGBT people who surrounded her in the fashion industry.
Said Tyra: "I didn't understand why they empathized with me so much…As I got older I understood that hate and discrimination and inequality was the same. And that the issues that I was going through as a Black woman were some of the issues that they had gone through as gays and lesbians and transgenders and bisexuals. And I want to thank all of those people whose shoulders I cried on, all of the people who embraced me….I have had a lot of success as a model, but I know I would not have had that success were it not for the gay community."
She also discussed her outrage at parents who reject their LGBT children, and said their bigotry is what inspires her to continue using her show as a platform against it.
And she also apologized for stealing the word "fierce."
Watch it, AFTER THE JUMP…