Official boycott launched against Jamaica for persecution of gays.

128 prisoners, many of whom were jailed for the "crime" of homosexuality, are set to be executed in Iraq in the near future: "According
to Ali Hili of IRAQI-LGBT, the Iraqi authorities plan to start
executing them in batches of 20 from this week. IRAQI-LGBT urgently
requests that the
UK Government, Human Rights Groups and the United Nations Human Rights
Commission intervene with due speed to prevent this tragic miscarriage
of justice from going ahead."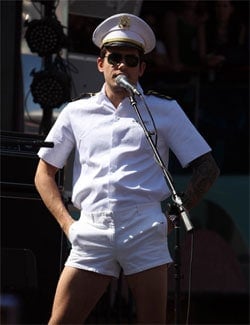 John Mayer turns fan cruise into Love Boat.

Recession-era spending: Elton John celebrates 62 at Hamburger Hamlet.

Russia's Gay Pride organizers plan activist tie-in to Eurovision Song Contest awards: We believe this is the best way for those who support democratic values
in Europe and who take part in the show to bring support to human
rights campaigners in Russia."

Zac Efron attacked by Q-tips.

More on the growing threat to gays in Uganda: "We've gotten word from three separate Ugandan sources that local gays
and lesbians in Uganda are worried about imminent violence, with many
making plans to go into hiding or leave the country."

Jon Stewart talks marriage at University of Vermont: "I can understand being against gay marriage — if they decided to make
it mandatory. This isn't a cultural divide: They're wrong."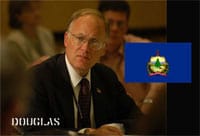 Protestors shadow Vermont Governor Jim Douglas in wake of same-sex marriage veto remarks: "Roughly 200 protesters greeted the governor and his wife when they showed up at Green Mountain College for a maple sugaring event Saturday. The crowd watched quietly, sang or chanted while Douglas used a hand-cranked drill to tap a tree in an arboretum decorated with rainbow ribbons."

Madonna determined to adopt again in Malawi…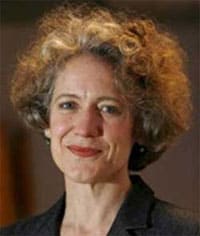 Zurich, Switzerland has a new lesbian mayor:
"Zurich, Switzerland, has elected its first female and first openly
lesbian mayor, Corine Mauch. A member of the centre-left Social
Democrats, Mauch has been elected with a lead of 11,000 votes over her
opposition following the surprise resignation of previous incumbent
Elmar Ledergerber late last year."

New York Post says it has seen a video of Vice President Joe Biden's daughter doing cocaine: "The video, which the shooter initially hoped to sell for $2 million
before scaling back his price to $400,000, shows a 20-something woman
with light skin and long brown hair taking a red straw from her mouth,
bending over a desk, inserting the straw into her nostril and snorting
lines of white powder."

Marc Jacobs and Lorenzo Martone show their love in Ipanema.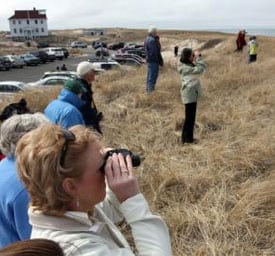 Right Whale mania grips Provincetown… Video…

L.A. Times on Barney Frank accusations: Does Antonin Scalia hate gays?

Gay rights groups want the Royal Family to give the okay for a hypothetical same-sex couple in the Monarchy to be able to engage in a civil partnership: "[Ben Summerskill, chief executive of gay rights group Stonewall] said: 'I have little doubt that in 21st and 22nd
Century Britain the public will judge the quality of their monarch by
much more than their sexual orientation.' He said the subject could be debated openly now because, as far as he was aware, there are no gays in the Royal Family."

Willem Dafoe gets "cheeky" for new Lars von Trier film.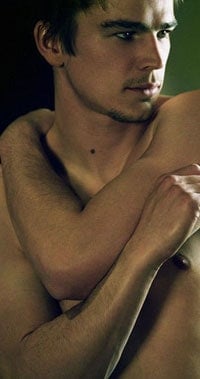 Josh Hartnett rushed to hospital for abdominal pain.

Campaign against homophobic bullying to be launched in Wales: "The new bilingual version of 'The School Report' will be distributed to all secondary schools in Wales. It
found 65% of pupils had experienced bullying because of their
sexuality. The launch takes place at the Stonewall Cymru annual event
in Llandudno. The education minister Jane Hutt said the assembly government was working to develop guidance on anti-gay bullying. 'The
Welsh Assembly Government fully supports the launch of 'The School
Report' which highlights the vital role schools can play in preventing
and responding to homophobic bullying, both within their boundaries but
also in the wider community'"

Obamas to pay for White House renovations out of their own pockets: "They 'are not using public funds or accepting donations of goods for
redecorating their private quarters,' says Camille Johnston, director
of communications for the First Lady. Nor is the couple, who reported
$4.2 million in household income in 2007 tax returns, using money from
the White House Historical Association, a privately funded foundation
that paid for a $74,000 set of china shortly before Laura Bush left
town."