Some parents removed their students from a London primary school recently for a week when the students were to be taught a gay-themed curriculum. The school now says it may take legal action: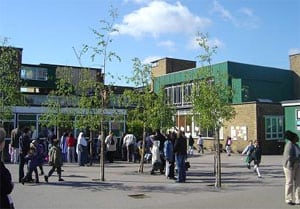 "Around 30 pupils from an east London primary school were absent from a week of
special lessons to highlight non-heterosexual partnerships. To mark the event some students watched a special adaptation of Shakespeare's
Romeo and Juliet retitled Romeo and Julian. Stories covered in the lessons at George Tomlinson School included a fairytale
about a prince who turns down three princesses before falling in love with
one of their brothers and the tale of Roy and Silo – two male penguins who
fall in love.
The protesting parents said the content was more appropriate for secondary
school pupils and now they face possible court action..Officials at Waltham Forest Council said there were unauthorised absences from
George Tomlinson School when it covered topics relevant to lesbian, gay and
transgender history. They said action had been taken against the protesting parents but are
currently refusing to say how they plan to punish them…To deal with truant pupils Waltham Forest Council can make parents can sign a
contract, impose fines or bring them to court."