I mentioned it in my earlier post, but the Des Moines Register is now reporting that roughly 400 same-sex marriage opponents organized by Chuck Hurley of the Iowa Family Policy Center rallied at the state capitol this morning: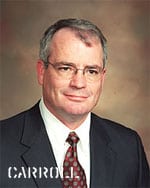 "They will ask lawmakers in the House to allow a bill that would launch a constitutional amendment to move forward. Security
was stepped up considerably at the Statehouse this morning. Troopers
are standing guard outside the chamber doors, in the balconies and
around the Iowa Capitol…'You
can let them know today that this issue is different. This is not about
taxes or spending and regulations. This is about morality and the word
of God,' said Family Policy Center Board Chair Danny Carroll, a former
Republican representative from Grinnell. One Iowa, the state's
largest gay-rights advocacy group is also making an appearance. Members
of the group were handing out stickers and gathering in support of gay
marriage. House Speaker Pat Murphy, D-Dubuque, has said he will
likely rule the bill to begin the amendment process out of order. The
bill, House Joint Resolution 6, did not meet certain legislative
deadlines."