Comedy legend Bea Arthur has died at the age of 86: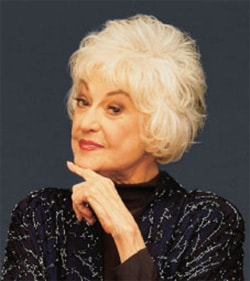 "Arthur died peacefully at her Los Angeles home with her family at
her side, family spokesman Dan Watt said. She had cancer, Watt said,
declining to give further details. 'She was a
brilliant and witty woman,' said Watt, who was Arthur's personal
assistant for six years. 'Bea will always have a special place in my
heart.' Arthur first appeared in the landmark comedy series 'All in the Family' as Edith Bunker's loudly outspoken, liberal cousin, Maude Finley. She proved a perfect foil for blue-collar bigot Archie Bunker (Carroll O'Connor), and their blistering exchanges were so entertaining that producer Norman Lear fashioned Arthur's own series….'Maude' scored with television viewers immediately on its CBS debut in September 1972, and Arthur won an Emmy Award for the role in 1977…'Golden Girls'
(1985-1992) was another groundbreaking comedy, finding surprising
success in a television market increasingly skewed toward a younger,
product-buying audience."
Check out our Bea Arthur tribute videos in the sidebar, and feel free to embed and share.