Not a surprise, but Democratic state senator Ruben Diaz, Sr. says he's organizing a protest against same-sex marriage legislation, City Room reports: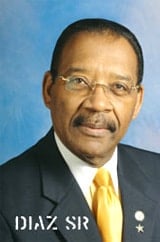 "Only hours after Gov. David A. Paterson said he would introduce legislation to legalize same-sex marriage in New York, about 100 people attended a meeting on Thursday at the Christian Community Neighborhood Church in the Bronx, where State Senator Rubén Díaz Sr. is the pastor, to discuss plans to protest. The church meeting, led by Mr. Diaz, was organized by the New YorkHispanic Clergy Association. In attendance were Hispanic bishops andpastors from churches across the city, as well as some congregants. Mr. Díaz told those in attendance that they were starting to plan a large rally to be held some time in May."
Diaz also immediately enlisted the help of newly-installed Archbishop Timothy Dolan, calling for a meeting with the Catholic leader.
The New York Daily News reports: "Diaz, a Pentecostal minister, blasted Paterson for introducing themeasure during Passover and a day after city Catholics welcomed newArchbishop Timothy Dolan. 'It's a slap in the face,' Diaz said.  Dolan also promised to fight Paterson's proposal."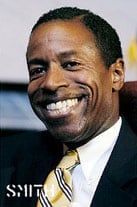 Senate Majority Leader Malcolm Smith, who was not present at yesterday's press conference, released a statement shortly after the presser: "I have been and continue to be a strong supporter of marriage equalityand remain steadfast in my commitment to passing the marriage equalitylegislation submitted today by Governor Paterson. No person should everbe denied their civil rights or the basic freedoms others can enjoy…I am fully committed to continuing the process of securing the32 votes necessary for passage and ensuring that all New Yorkers canrealize the right of marriage equality which is fundamentally theirs."
Assemblyman Daniel O'Donnell, and state senator Tom Duane promised to fight for the votes to pass the bill at yesterday's press conference.
My video of their remarks, along with City Council Speaker Christine Quinn's,
AFTER THE JUMP...
Assemblyman Daniel O'Donnell:
State senator Thomas Duane:
NYC City Council Speaker Christine Quinn: