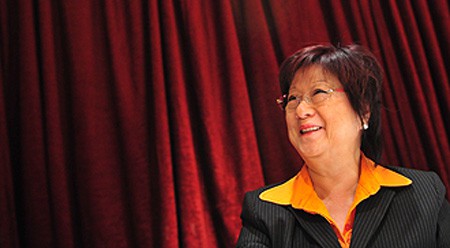 A Singapore lawyer, Thio Su Mien, has orchestrated a coup of a major women's advocacy group in Singapore because of her concerns that it had become too "pro-lesbian" and "pro-homosexual".
A reader writes:
"I'm writing to to ask for support as well as to highlight a situation that is unfolding rather dramatically in the island nation of Singapore. It involves a hostile takeover of a women's advocate group by Christian fundamentalists linked with Focus on the Family who have been actively and successfully preventing any progression of basic gay and women's rights in Singapore. Earlier in March, Singapore's most prominent, oldest and only women's advocate group, AWARE, held their Annual General Meeting. Members were to vote and elect a new executive board. It turned out to be a hostile takeover. The group essentially organized supporters of their cause (through church links) to oust long serving members of the group from the executive committee. They did this by getting people who had previously no interest in AWARE's activities to sign up as members sympathetic to the fundamentalist rhetoric right before the elections were to be held. The old executive committee had no idea what hit them until the election was well under way."
The Straits Times: "Dr Thio, 71, a born-again Christian who runs her own law firm, is themother of Nominated Member of Parliament Thio Li-ann and her nephew, DrAlan Chin, is married to new Aware president Josie Lau.She was the first woman dean of the Law Faculty at the then-University of Singapore, from 1969 to 1971. Disturbed by what she saw as signs that it was promoting lesbianismand homosexuality, she began urging women she knew to challenge Aware'sattempts to redefine marriage and families. On Thursday, the new Aware leaders said that they and theirfamilies had been threatened and even received death threats, and theyhave reported them to the police."
A group of news links chronicling these events can be found here. An online petition has been started to oppose the new group.
If you watch the disgusting video of this woman's daughter, Thio Li-Ann, mentioned above, presenting her anti-gay agenda to parliament, you can see where they're coming from. Watch it, AFTER THE JUMP…