And you thought the younger generation of Christians might be more enlightened…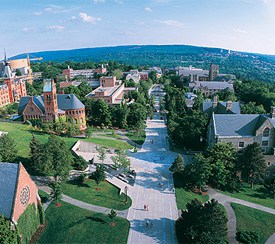 The Cornell Daily Sun reports:
"A campus Christian group that receives funding from the student
activity fee is coming under scrutiny after a student was asked by
advisors to step down from its leadership team when he told them that
he had openly accepted his homosexuality…Before joining the leadership team, Donohoe was vice president
during his junior year. To enter a titled position in Chi Alpha,
students must apply through the Hermans and demonstrate that they
uphold certain values, including not engaging in premarital sex, and
refraining from drinking alcohol and taking drugs, according to Donohoe. 'I thought it would be an awesome opportunity to be an openly gay man in a Christian organization,' Donohoe said. After Donohoe finished his term as vice president, he was going to
be on the leadership team last fall. The Hermans told Donohoe that they
were comfortable with his position as long as he did not engage in a
relationship. However, after Donohoe met his boyfriend last summer and
affirmed his acceptance of his sexuality, the Hermans asked him to step
down from the team without consulting the rest of the organization"
The paper also published an editorial about the incident: "The gay community is one of the most oppressed communities in the world
and most poignantly, at Cornell. The actions taken by Chi Alpha
Christian Fellowship to remove Chris Donohoe '09 from his leadership
position have highlighted this. But we know that his tale is just one
example of such discrimination on college campuses across the nation,
where social justice is being halted by fundamental values encroaching
into the realm of progressive academics."