The Connecticut legislature voted to update the state's marriage laws to conform to the Supreme Court ruling which legalized same-sex marriage in the state: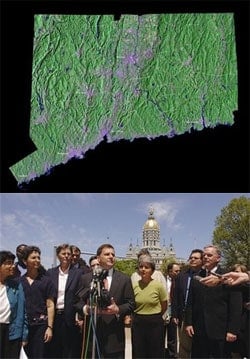 "A spokesman for Gov. M. Jodi Rell said she will sign the bill, which
passed 28-7 in the Senate and 100-44 in the House of Representatives,
into law. While Rell, a Republican, signed the state's 2005 civil
unions law, she has said she believes that marriage should be between a
man and a woman. The bill comes six months after the State
Supreme Court ruled 4-3 that same-sex couples have the right to wed in
Connecticut, rather than accept the civil union law designed to give
them the same rights as married couples."
The bill was amended to assuage religious institutions:
"Lawmakers endorsed an amendment that allows religious organizations,
associations and societies to effectively opt out of the requirements
of the law. That means that a group such as the Knights of Columbus
would not be required to rent out its function halls for same-sex
wedding receptions. Nor would a Catholic priest be obligated to preside
over such a union. But both the House and Senate emphatically rejected expanding that
circle of exemptions to include individuals and businesses such as
florists and justices of the peace. To do so, they said, would be akin
to enshrining discrimination in state statute."