New York Governor David Paterson appeared to dial back his rhetoric yesterday on New York's marriage equality bill, which has been full-throttle since he announced he was reintroducing it, in a public gesture of handover to Senate Majority Leader Malcolm Smith.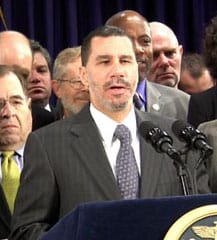 Said Paterson: "On this particular bill, there are a lot of other issues related to
it. Senator Smith knows the inertia of the
Senate better than anyone else . . . I'll stick with his final
judgment."
Newsday reports: "Smith (D- St. Albans)
supports gay marriage, but has said he would not allow a vote if defeat
was likely. 'I'm very concerned about putting a bill on the floor
that's going to be symbolism and not pass. . . . I'm going to count
until I know that I have 32, if not 34, votes,' he said last week. After Paterson's comments Wednesday, Smith was asked for a response.
Before he could reach the microphone, the governor quipped, 'Senator
Smith agrees with me completely.' Smith replied, 'Absolutely.' … Wednesday night, Paterson spokesman Peter Kauffmann said the governor
had been 'consistent' in his statements Wednesday and last week.
Paterson believes that legislation in general should be debated but was
not demanding that Smith bring the gay marriage bill to the floor
regardless of whether it had sufficient support, Kauffmann said."