In January, I posted about nine men who had been jailed for eight years after being convicted of homosexual acts in Senegal. Senegal's court of appeal has overturned that conviction, according to UNAIDS: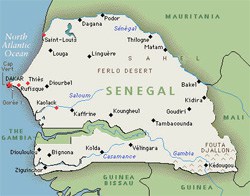 "The nine men had been sentenced to eight-year prison terms in January
for 'acts against nature and the creation of an association of
criminals', sparking criticism from diplomats and international
organisations like Human Rights Watch and UNAIDS. 'The decision
should be a model for the African continent and the world in the fight
against discrimination against men who have sex with men,' said Michel
Sidibe, executive director of UNAIDS, the United Nations agency charged
with tackling AIDS. The decision was taken on Monday but it was
not clear when the men would be freed. Senegal's ministry of justice
was not immediately available for comment about the case."
UPDATE: Activists freed…