Thrice-married former NYC Mayor and erstwhile presidential candidate Rudy Giuliani says he'll come out swinging against same-sex marriage should he decide to run for Governor of New York next year.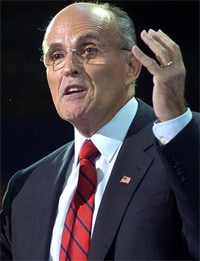 Giuliani told the New York Post: "[The marriage equality battle] will create a grass-roots movement. This is the kind of issue that, in many ways, is somewhat beyond politics. I think gay marriage will obviously be an issue for any Republican next
year because Republicans are either in favor of the position I'm in
favor of, civil unions, or in many cases Republicans don't even favor
civil unions. Marriage, I believe, both traditionally and legally, has always been
between a man and a woman and should remain between a man and woman. And Democrats, including President Obama and Hillary Clinton, have
essentially the same position I have, which is let's have civil unions
but not go so far as to change the definition of marriage. And that has to embrace many Democratic voters, if two Democrats like
that nationally have the same position essentially that I have."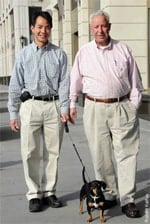 Howard Koeppel and Mark Hsaio, a gay couple together for 18 years who are friends with Giuliani and housed him for six months during his messy split with  wife Donna Hanover, say Giuliani doesn't discriminate and cite the religious excuse for his convictions: "He isn't an advocate for gay marriage because of his religious beliefs. He is a traditional Catholic. Those teachings say marriage should be between a man and a woman."
Koeppel and Hsaio plan to get married in Connecticut on May 2.
UPDATE: Giuliani appeared to back off his marriage comments, says Politico, in a morning interview.
Could it be because of this poll?