Kristoffer Bonilla, 33, and John Thomas Wray, 18, a gay New Orleans couple, have filed suit because they were denied a marriage license in Louisiana.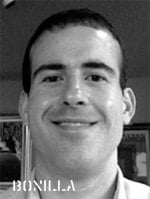 Via NOLA.com: "he men filed the lawsuit against several state and local
officials on April 2, the same day they said they were
denied a marriage license. It claims the state's
marriage amendment violates the First Amendment 'by
curtailing the right to marry based upon a religious
interpretation of the nature and purpose of marriage itself…By failing to articulate a legitimate, compelling and
secular interest for the restriction on marriage, the state
has necessarily established a wholly religious civil
institution,' it says. Bonilla, who said he graduated from a New Orleans law school
but isn't a practicing attorney, drafted the lawsuit
before they applied for the license."
The case is the first of its kind in Louisiana.
(image via facebook)