A mother from Aberdeen has been fined for threatening her estranged son and his boyfriend with text messages and verbal homophobic abuse, the BBC reports: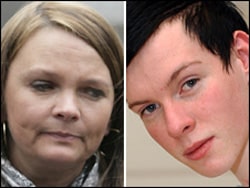 "Celia Duncan, 42, abused 16-year-old Stuart O'Neill when she spotted him holding hands with his boyfriend. Duncan, who admitted breach of the peace, swore at the pair and
called them 'poofs', Aberdeen Sheriff Court heard. She was fined £250…Fiscal depute Cecilia Dyckhoff, prosecuting, told the court: "The
complainer was walking with his friend on Back Hilton Road when he saw
Miss Duncan's car going past, brake suddenly, turn round and stop…'He knew it was her car and started to run away. He and his friend
climbed a wall and ran through a wood and the accused chased him
shouting at them, making homophobic remarks.'…Ms Dyckhoff said Mr O'Neill's mother later sent him a voicemail
saying: 'I will get you, believe me, and you will get your head kicked
in.' She told the court: 'He then got a text message that said 'I will get you and your poof'.'"
Sounds like  a lovely woman. Hope the teen gets some help.