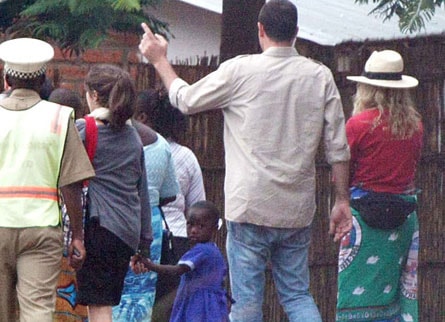 Madonna has reportedly been denied a request to adopt a second child in Malawi. The orphan, 3-year-old Chifundo "Mercy" James, is pictured above.
The AP reports: "A judge has rejected Madonna's request to adopt a second child fromMalawi because of a requirement that prospective parents live in thesouthern African nation for at least 18 months, a judge and a lawyersaid Friday. The judge who confirmed the decision did not makethe ruling, but saw it. The lawyer was present when the ruling wasmade. Both spoke on condition of anonymity because they were notauthorized to discuss the case. The 50-year-old pop superstar can appeal the ruling to Malawi's Supreme Court. Theresidency rule was waived in 2006, when Madonna was allowed to take heradopted son, David, to London before his adoption was finalized in 2008. Itwas not clear why Judge Esme Chombo ruled differently Friday. Anotherjudge had handled Madonna's previous adoption case. Madonna was not incourt on Friday…Madonna had promised to make Mercy a permanent part of her family andspare her the 'hardship and emotional trauma' of life as an orphan."
The adoption had been endorsed by Malawi's child welfare minister.
ITN's news report, AFTER THE JUMP…