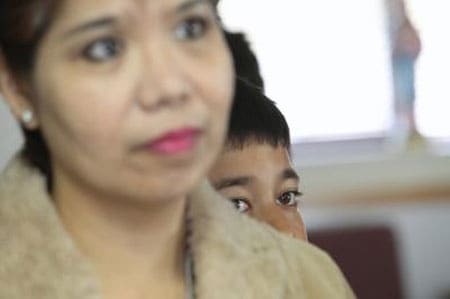 Some good news from Pacifica, California in the immigration case we've been following concerning Shirley Tan, Jay Mercado, and their twin sons. The couple of 23 years was set to be split apart today by the U.S. Government because of existing immigration and marriage laws which don't recognize same-sex couples.
The Mercury News reports:
"Shirley Tan, whosepartner of more than two decades is a U.S. citizen, had her deportationdelayed by the Department of Homeland Security until April 22. The staygives Tan more time to make the case that she should be able to remainin the country legally. Tan and her partner, Jay Mercado, have beenexpecting to move to the Philippines with their sons if Tan was forcedto leave the U.S. The stay — obtained with the help of Rep.Jackie Speier, D-San Mateo, and Sen. Dianne Feinstein, D-Calif. — 'gives them hope,' said Melanie Nathan, a Marin County mediator workingwith the couple."
It's only 19 days but it's something with which to work. Their story, if you missed it yesterday, AFTER THE JUMP…