Yesterday I mentioned Reverend Harry Jackson's protest against marriage equality in Washington D.C.: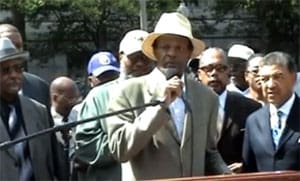 "The Stand Up for Marriage rally was held across the street from theJohn A. Wilson Building, the seat of city government…'I would rather be religiously courageous than politically correct,'Jackson said. 'I am thankful that God has put it in your heart to behere. You represent a hundredfold and others that should and would andwanted to be here. I am appointing you to take the word far and wideand speak up for Jesus.' The ministers contend that the city's elected officials are pushing legislation that most District residents oppose."
AFTER THE JUMP, watch Washington Blade video of Jackson, as well as  D.C. Council member and former mayor Marion Barry (via Right Wing Watch). Barry, the four-time married ex-con, tax-evading crack addict, declared himself a "moral leader."