The New Hampshire Senate Judiciary Committee is holding hearings today on the same-sex marriage bill which passed the House by a vote of 186-179 on March 26.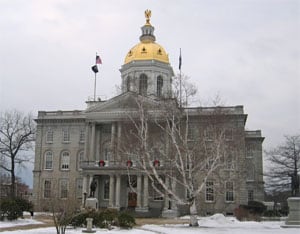 FOX 44 reports that "dueling demonstrations" greeted lawmakers as they arrived this morning: "Emotions ran high as the philosophical debate created some face-to-face confrontations. Several hundred people against gay marriage and a smaller number
supporting it gathered in separate groups on the Statehouse plaza,
mixing briefly as they headed into the building for a Senate committee
hearing on whether New Hampshire should be the fifth state to allow gay
marriage. As they mixed, some from the pro-gay marriage group shouted 'Love
means everyone,' prompting others to counter: 'Support traditional
marriage.'"
As always, the battle is uphill: "Several senators in the Democrat-controlled legislature contacted by
Reuters speculated the bill would face defeat, citing Democratic
Governor John Lynch's opposition, or be tabled indefinitely so
lawmakers can avoid taking a stance on the issue ahead of elections
next year."
Openly gay Episcopal Bishop Gene Robinson is expected to testify at the hearings.