Considering the fact that last week the New Hampshire Senate Judiciary Committee voted against recommending the marriage equality bill, it's pretty stunning news that it was approved today.
Reuters reports: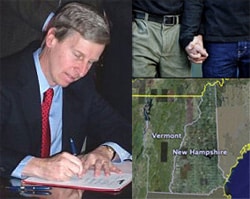 "New Hampshire's Senate passed a bill on Wednesday that would
legalize same-sex marriage after an amendment was added that prohibits
polygamy and marriage of family members, among other measures. Governor John Lynch (pictured) has not indicated whether he will veto the bill,
which passed in a 13-11 vote and would make New Hampshire the nation's
fifth state where gay marriage is legal. But the Democrat has expressed
opposition to the measure. The bill passed the state's House of Representatives on March 26 but
looked set for near certain defeat in the Senate before the amendment,
which appeared to mollify some critics in the Democrat-controlled
chamber. The last-minute changes to the legislation would allow clergy to
decline to marry homosexual couples and give couples the freedom to
either keep the words 'bride' and 'groom' on marriage licenses, or
simply use the word "spouse" instead."
Because of the amendments added to the bill it must now go back to the House for another vote to resolve the differences. In other news, the NH Senate failed to pass a transgender nondiscrimination bill and a hate crimes bill.
NGLTF statement: "This vote in the New Hampshire Senate is another sign of the progress
being made toward equality. For far too long, many New Hampshire
families have been placed in harm's way because they lack the full,
fundamental protections they deserve. We urge Gov. John Lynch to
rectify this inequality — and help safeguard more of New Hampshire's
families — by stepping up and signing this bill when it finally reaches
his desk."