Last Thursday, the New Hampshire Senate Judiciary Committee voted 3-2 against recommending approval of the state's same-sex marriage bill. That bill will get a vote from the full senate tomorrow, Reuters reports: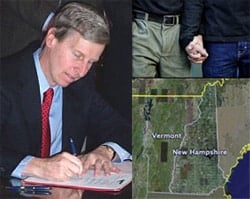 "By a vote of 3-2 on Thursday, New Hampshire's Senate JudiciaryCommittee said the bill was "inexpedient" to legislate, recommendingthe full senate defeat it. The committee's chairman, Senator Deborah Reynolds, said NewHampshire took a major step in legalizing civil unions last year — thefourth state in the country to do so — and needs some time to 'buildconsensus on this issue'. The Democrat joined two Republicans to vote against it. On Wednesday, the committee's recommendation will get the firstvote. Thirteen of the state's 24 senators are needed to kill the bill.If the senate splits at 12-12 or if a majority wants to keep it alive,a motion to pass could be entertained."
The bill could also end up tabled, or, if passed, Governor John Lynch (pictured) may veto it. Lynch has not indicated what he will do.
A FOX report on same-sex marriage in the state, AFTER THE JUMP…