A new poll by the Siena Research Institute says that 53% of New Yorkers support the state senate's passage of a bill legalizing same-sex marriage. The New York Assembly has already passed such a bill. As you probably know, Governor David Paterson re-introduced the legislation last week.
Click the image above, which I've screencapped, for the numbers across the board.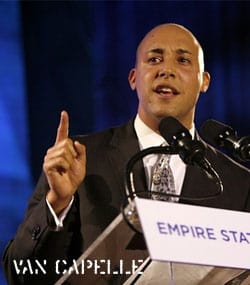 Alan Van Capelle, executive director of the Empire State Pride Agenda, says consecutive results from the same pollster show an increasing support for passage of marriage equality legislation in the state.
Said Van Capelle in a press release:
"'Siena's latest poll numbers on where New Yorker's stand on the issue of marriage for same-sex couples make me proud to call the Empire State my home. Not only are a majority in favor of legalizing marriage for our families, these new numbers establish a clear trend of increasing support, year after year, every time Siena asks about this issue.  In the past three years, Siena polling has shown support for marriage equality growing from 43% in 2007 to 46% last year to 53% this year and opposition dropping from  47% in 2007 to 40% last year to just 39% now…It's time for State Senators who still aren't with us to look at these results and ask themselves this simple question:  'Do I want to be on the right side of history or the wrong side of history when the story is written about how marriage equality came to New York State'?"
Governor David Paterson's numbers, on the other hand, did not fare well in the poll.
NY Poll Results [pdf] Crosstabs [pdf]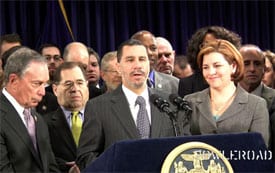 In a NYT interview, Paterson expressed hope on Friday that the bill could pass in the senate: "I'm more optimistic that it gets done. I'm not necessarily sure that it can be done."
Democratic Senator Ruben Diaz, Sr., the most virulent opponent of same-sex marriage in the state senate, called for voters to oust Paterson and discussed his plans to hold a rally against same-sex marriage during the month of May.
Said Diaz, Sr: "You could put it down, during the month of May, we will bring out
thousands and thousands of Hispanic evangelical Christians in the city
of New York to ask Governor Paterson to step aside."