Some not good news from New Hampshire:
 "The committee voted 3-2 Thursday against a bill that passed the House
last month. Committee Chairwoman Deborah Reynolds, a Democrat, said she
doesn't think New Hampshire is ready for gay marriage. Republicans who
voted against it said marriage is an institution created and defined by
God as between one man and one woman."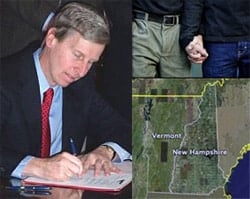 Governor John Lynch, who signed a civil marriage bill two years ago, has not said whether he would veto the marriage bill.
On April 15, the Senate Committee held public hearings on the bill, which passed the House 186-179 in late March. Earlier this week, New Hampshire GOP Chair John Sununu commented on the bill while reacting to the win in a special election of Republican Jeb Bradley.
The Union Leader reported: "[Sununu]
said Bradley's election actually helps Democratic Gov. John Lynch.
Bradley could be counted on to sustain a Lynch veto of the gay marriage
and transgender discrimination legislation, 'if he (Lynch) finds the
strength to veto that garbage,' Sununu said. [NH Dem Party Chair Ray] Buckley said it's 'silly talk' to suggest what bills Lynch will veto."