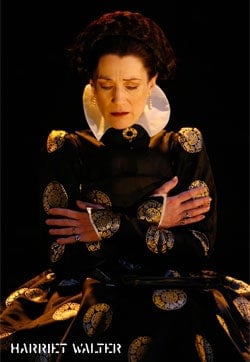 Now for the actresses.
Aside from Marcia Gay Harden — who's my favorite to win the Tony for
Best Actress in a Play — there are several performances I must mention.
Janet McTeer and Harriet Walter, as Mary Queen of Scots and Queen
Elizabeth I respectively, are living up to all the hype that preceded
them regarding their performances as the battling royals in Peter
Oswald translation of Schiller's Mary Stuart. And Jane Fonda is living
up to the legend of her DNA with a stunningly dignified return to the
stage in 33 Variations. She overcomes some the hackneyed aspects of
Moises Kaufman's play that's a lot like a Lifetime movie. Kaufman
serves as his own director and he's a better conceptual artist than he
is a writer. I would love to see him direct a production at the
Metropolitan Opera or, better yet, Glyndebourne. I've heard rumors
that he and puppeteering genius Basil Twist might be working on an idea
for an operatic production.
Three of the best musical performances by actresses include Karen Olivo
who is magnificent as Anita in Arthur Laurents' quaint production of
West Side Story. I'm one of this revival's detractors. The Spanish
speaking sections he has inserted into the show seem just that:
inserted. It ends up sounding more Spanglish at times than Spanish
which just ends up being unintentionally insulting to The Sharks
portion of the show. And I had a problem with Matt Cavenaugh at the
center of the show as Tony. Though he does a beautiful rendition of
"Maria," the rest of the time I felt as if I were watching a
performance of Tony at a meteorologist convention.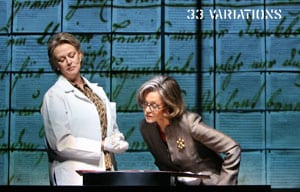 And then there is the great Alice Ripley reprising her role as the
bipolar Diana, whose grief overwhelms both her and the audience in Next
to Normal. I predicted this show would move to Broadway when I saw it
at Second Stage last year. The creators have streamlined the show from
its earlier version — cutting the big closing number of the first act
about shock treatment which I referred to as its "Springtime for
Hitler" moment — and it is now even more heartrending in its simpler
takes on mental illness and loss and what together they can do to a
family.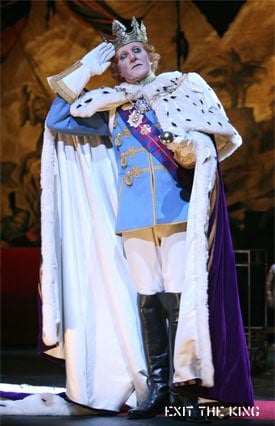 Currently at Second Stage, the shockingly talented Sherie Rene Scott is
starring in Everyday Rapture, a show about her life as a Mennonite back in Topeka and her
journey to musical stardom on Broadway. It borders on crassness at
times with its production values but Scott's tenderness is able to cut
through a lot of the clutter. I saw a scene from the show a few months
ago in a rehearsal studio. Scott simply sat on a stool with a piano
accompanying her instead of the crashing sounds of the combo that now
backs her. I was much more moved by the complexity of the emotions in
that simpler environment than I was in this production, overly directed
by the usually reliable Michael Mayer.
If you want to see a great comic performance, check out Kristine
Nielsen in Christopher Durang's Why Torture is Wrong and the People
Who Love Them. Nielsen's wacky take on Durang is part Charlotte Rae,
part Billie Whitelaw, who was Beckett's greatest interpreter.
There is one great male performance I'd like to end with – Geoffrey
Rush in Exit the King. It's great clowning raised to the level of King
Lear. The technique is always visible but so is the absurdity of such
deeply felt pain. It's a stunning achievement.
Recently reviewed…
On the Stage: Our Town, The American Plan, and Ruined [tr]
A Conversation on 33 Variations: Kevin Sessums Talks to Jane Fonda and Moises Kaufman [tr]
On the Stage: Becky Shaw and The Third Story [tr]
On the Stage: Pal Joey and Hedda Gabbler [tr]

On the Stage: Billy Elliot, Shrek, 13, and Prayer for My Enemy [tr]

On the Stage: Back Back Back and Farragut North [tr]