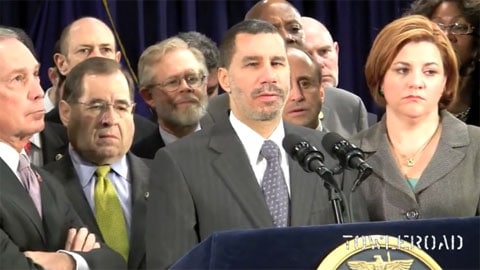 Here's the Q&A with Paterson following the pressconference yesterday. This morning I posted that Democratic senator Ruben Diaz Sr. is organizing a protest to rally against the same-sex marriage bill.
Paterson was asked about Diaz, Sr. and his beliefs yesterday. Answered Paterson: "I didn't know he was convening Christ's Army, because I thought I was a member of it, and I'm in favor of gay marriage."
This is the last of these videos. If you missed them, here are Paterson's main remarks,Bloomberg's mini-meltdown, and Daniel O'Donnell's, Christine Quinn's,Tom Duane's, and Alan Van Capelle's remarks. Unfortunately Corey Johnson did two interviews for us with Duane and Van Capelle, and both were unusable because the audio was sour. We hope to get to speak with them again soon.
Watch Paterson take questions from reporters, AFTER THE JUMP…