Pictures of Prince Harry in drag with beer in hand were featured in a British tabloid over the weekend.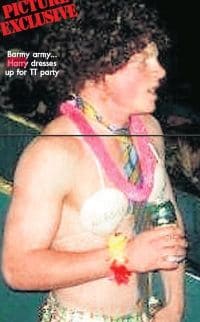 The Mirror reports: "Ruddy-faced Harry, 24, is exclusively pictured in today's Sunday
Mirror clutching a beer can and wearing a wig, bracelet and pink
garland – at a gathering of the secret uppercrust TT Society. The
elitist society devotes itself to drinking – so Harry fits like a
glove. As well as getting in touch with his feminine side, the prince
also proudly wore his light blue and gold tie – given to members of the
TT only after a special initiation ceremony. One member said: 'The TT is very secretive and has strong links with the military and
Oxford Brookes University – where a lot of the members met. You
have to be recommended for membership – and Harry fits the criteria
perfectly because he loves being in the forces and getting p***ed. Drinking is a massive part of the TT – events revolve around alcohol, where members drink until they throw up."
(image source)