In 1971 pioneering gay rights activist received a letter condemning
homosexuality as "sexual perversion" from the White House Office of
Personnel Management after protesting the firing of a gay employee
there. Last week, Kameny was invited to the swearing in of John Berry,
the openly gay man recently confirmed to head that office. How times have changed.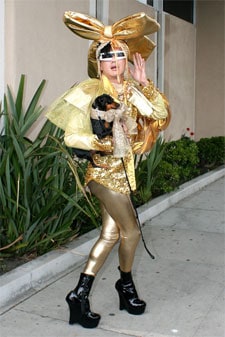 Aretha Franklin thought she had the biggest bow hat of the year.

Gay man appointed interim ambassador to India: "Peter Burleigh, a seasoned foreign service officer with deep expertise
in South Asian affairs, will serve as America's top diplomat in India
until a permanent ambassador is named."

San Francisco Mayor Gavin Newsom makes swing through South Florida, addresses LGBT community at Miami Beach's Halo Lounge.

In an unusual defeat, Madonna returns to London.

North Dakota House rejects legislation (54-34) banning discrimination in housing, employment and credit based on a person's sexual orientation: "Rep. Corey Mock, D-Grand Forks, one of the six sponsors of the bill,
noted that 20 other states already have laws barring discrimination
against gays and lesbians. In those places, he said, the laws do not
grant special rights, privileges or legal immunity for sexual deviants,
as some bill opponents have claimed would happen here. 'There
is not a person in this chamber that is not related to or friends with
someone that would be affected by Senate Bill 2278,' he said. 'That
means people we know and love may be evicted, denied services or
terminated because they are gay, straight, bisexual or transgendered
with no regard or consideration of merit.'"

Ashton Kutcher spends more time running around shirtless for his new movie.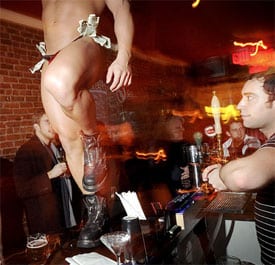 Here comes the gayborhood: Pizza parlor emerges as gay bar in Carroll Gardens, Brooklyn.

Help: Censorship in focus in Lebanon as a film is banned just days before scheduled release. "In Lebanon, a censoring body of security officers influenced by the
Muslim and Christian clergies continues to review all plays and films
before they are shown, cutting all scenes that might 'offend public
morals.' Although the contentious sex scenes in 'Help' are far
from explicit, the film features a threesome of a woman and two men.
That may explain the controversy: Homosexual acts are illegal in
Lebanon."

NPR on Tony Dungy's invitation to join Obama's advisory council for the White House Office of Faith-Based and Neighborhood Partnerships.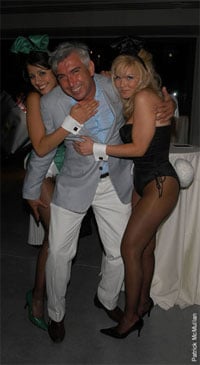 Former Playboy fashion director Joseph DeAcetis sues magazine: "In a $4 million Manhattan Supreme Court lawsuit, Joseph DeAcetis
(pictured), 45, says his boss often 'made fun' of him because he was
gay and his hair was gray. The suit says editorial director Christopher Napolitano called him and other gay men 'girls.' A Playboy Enterprises spokeswoman, Elizabeth Austin, said the
company 'takes these allegations very seriously' and was conducting its 'own investigation.'"

Shotgun wedding: Paparazzi fired upon at Tom Brady-Gisele Bundchen nuptials in Costa Rica.

Integral ice bridge holding Antarctic shelf in place collapses…

Jimmy Carter's former Secretary of the Army, Clifford Alexander slams "Don't Ask, Don't Tell" policy and Elaine Donnelly's crusade against its repeal: "Alexander called the officers' statement 'nonsense' and said the officers were 'like lemmings to the sea' and "those who would sign a petition like this without evidence are acting without facts."

100 attend same-sex marriage rally at Drew University in New Jersey.

San Francisco activists to protest executions of gay men in Iraq at 5 pm today, Harvey Milk Plaza.