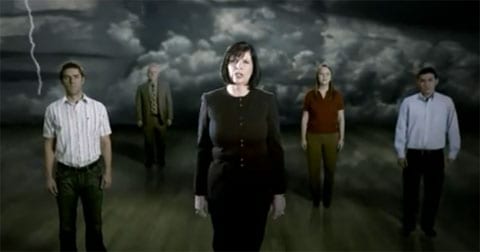 Frank Rich destroys NOM's 'Gathering Storm' ad in a NYT column published over the weekend. Stephen Colbert joked the ad was like watching The 700 Club and The Weather Channel at the same time. Rich further anoints it as an "Internet camp classic," calling it a cross between "that creepy 1960s horror classic The Village of the Damned [and] the Broadway staple A Chorus Line.
If you're one of the few who hasn't seen it, here's my original post.
Writes Rich: "What gives the ad its symbolic significance is not just that it's idiotic but that its release was the onlyloud protest anywhere in America to the news that same-sex marriage hadbeen legalized in Iowa and Vermont. If it advances any message, it'smainly that homophobic activism is ever more depopulated and isolatedas well as brain-dead."
Check out the latest parody to cross our virtual threshold, AFTER THE JUMP…
The Bigots' Last Hurrah [nyt]