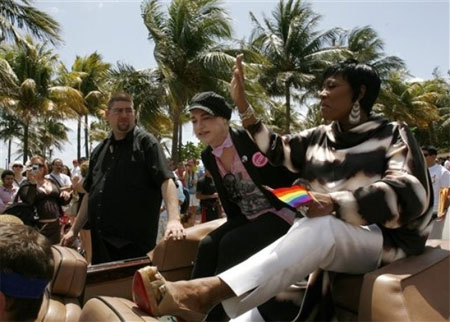 Miami Beach held its first Gay Pride over the weekend, which drew a crowd estimated at approximately 20,000 people, the Miami Herald reports. Among the "legacy couples" which I reported were participating in the parade were George Volpe and Peter Santangelo, together for 65 years:
"[The parade] also featured floats filled withdancing shirtless men from club Twist, cars hanging banners saying 'Marriage is a Civil Right,' and the Miami Gay Men's Chorus, whichmarched while singing Over the Rainbow. DespiteMiami Beach's long, proud history of being a gay-friendly town — evenpassing a law recognizing domestic partnerships — the city has neverbefore hosted a Pride festival."
Singer Patti LaBelle and designer Richie Rich served as the parade's grand marshalls. Committee members and organizers held a post-parade party at Halo Lounge on Sunday as well. Here's a photo gallery of that.
The Miami Herald's video report, and a video of LaBelle and Rich at the Pride ceremony, AFTER THE JUMP…
Patti LaBelle: