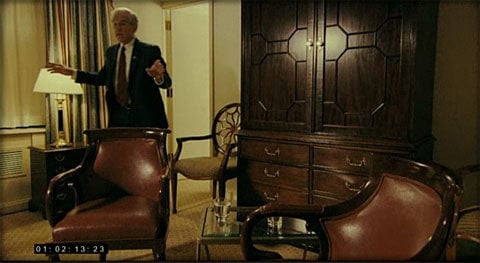 Sacha Baron Cohen tries to seduce former presidential candidate Ron Paul in his upcoming film Bruno. Paul talked about the incident with radio host  and Guardian Angel founder Curtis Sliwa:
"I was expecting an interview on Austrian economics. So, that didn'tturn out that way. But, by the time he started pulling his pants down,I, What is going on here? I ran out of the room. This interview hasended. When this all gets out, I'm probably going to have to apologize tomy supporters because I think most of them are going to figure out whyin the world didn't I sock this guy in the nose?"
I screencapped the shot above from the recently released trailer.
Listen to Paul talk about why he doesn't enjoy such nonsense, AFTER THE JUMP…