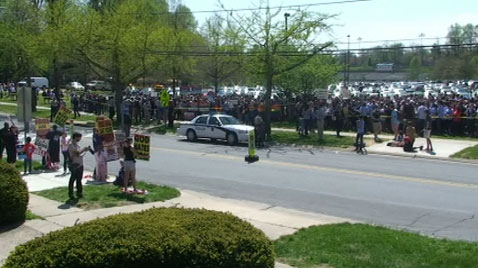 The Washington Post says being gay is a "lifestyle":

But the real news of this post is the counter-protest put together by students at Walt Whitman High School in Bethesda, Maryland, in response to the arrival of seven hags from the Westboro Baptist Church on Friday:
"The police presence — 40 officers, five horses, blocked-off streetsand a football field's length of yellow tape — seemed comicallydisproportionate until the counter-protest arrived. At the 2:10 p.m. dismissal, 500 students issued forth from thecampus and lined up, several students deep, along the police tape,across Whittier Boulevard from the congregants. They alternatelychanted the school name and "Go home!" — drowning out voices fromacross the street."
The WBC was there to protest Walt Whitman's sexual orientation, if you can believe it.
Watch, AFTER THE JUMP…