A San Diego-area sixth-grader's report on slain gay rights leader Harvey Milk was not welcomed by the school's principal, the L.A. Times reports: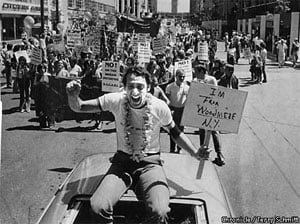 "Instead, the principal sent letters to parents giving them the
option of not allowing their child to listen to the presentation by
classmate Natalie Jones. Officials cited the district policy requiring
that parents be notified before any classroom instruction about sex,
AIDS or 'family life.' About half the class received permission and listened to the report,
which was given during lunch hour rather than regular classroom time
like other students' reports, the ACLU said…The ACLU of San Diego and Imperial counties asserts that officials
misinterpreted the district's policy on sex education and, in the
process, violated Natalie's free speech rights. The group has given the
Ramona Unified School District five days to respond or face a possible
lawsuit."
Said Jones' mother: "This whole thing is unbelievable – first my daughter got called into
the principal's office as if she were in some kind of trouble, and then
they treated her presentation like it was something icky. Harvey
Milk was an elected official in this state and an important person in
history. To say my daughter's presentation is 'sex education' because
Harvey Milk happened to be gay is completely wrong."
The Mt. Woodson Elementary School student reportedly learned of Milk after seeing the Gus van Sant-directed film.
California School Bans Sixth Grader's Presentation on Harvey Milk [aclu