Self-proclaimed 'fag hag' Daniel Radcliffe is quite the evolved young lad: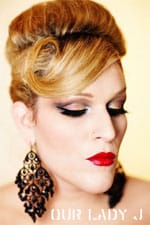 "Radcliffe, who will appear in Harry Potter and the Half-Blood Prince
when it is released in Britain in July, attended an Our Lady J gig and
later described the experiences as 'awesome' during a television
interview. The international drag queen mentioned their latest meeting on Twitter site, writing: 'Just had delish meal w/Dan Radcliffe.' A
close friend of Our Lady J told the newspaper: "Daniel is fascinated by
the drag culture and is always asking questions. He went to a few shows
and was made to feel very welcome. 'He's a lovely guy and he
and Our Lady J got on like a house on fire. They have eaten out
together and been to parties. They have become quite close.'"
*Note: Some readers have pointed out to me that Our Lady J is transgender, not a drag queen. The source above has it wrong. Our Lady J also talked to OUT about Radcliffe. Thanks for the correction.
You may remember that Radcliffe also has no problem writing love letters to his gorgeous male co-stars.