Gay and lesbian State Department employees and their partners will soon receive benefits equal to those of their heterosexual counterparts, according to a draft memo written by Secretary of State Hillary Clinton: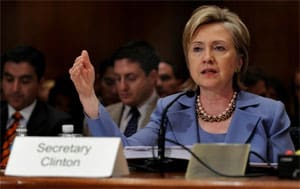 "In a notice to be sent soon to State Department employees, Clintonsays regulations that denied same-sex couples and their families thesame rights and privileges that straight diplomats enjoyed are 'unfairand must end,' as they harm U.S. diplomacy. 'Providing training,medical care and other benefits to domestic partners promote thecohesiveness, safety and effectiveness of our posts abroad,' she saysin the message, a copy of which was obtained by The Associated Press. 'Itwill also help the department attract and retain personnel in acompetitive environment where domestic partner benefits and allowancesare increasingly the norm for world-class employers,' she says. 'Atbottom, the department will provide these benefits for bothopposite-sex and same-sex domestic partners because it is the rightthing to do,' Clinton says."
The benefits include use of foreign medical facilities, diplomatic passports, government-paid travel for spouses and families, and eligibility for foreign training courses and emergency evacuations.
A report on the memo from CNN and the difficulties the changes may come up against,
AFTER THE JUMP…