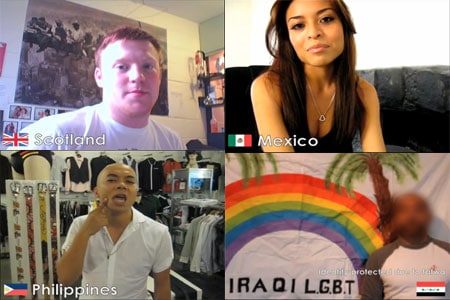 Kenneth Tan of Gays.com sent us this video put together in honor of yesterday's International Day Against Homophobia & Transphobia (IDAHO). Involved in its making are 359 people from 48 countries around the world.
"We areoverwhelmed and, at the same time, humbled by this torrent ofenthusiastic support that has poured in from all four corners of theworld since we kickstarted the video project in April," said Louis-Georges Tin, founder of the IDAHO committee, "People have madethe effort to go to such places as the Statue of Liberty, the GreatWall of China, the Sydney Opera House, the Golden Gate Bridge, theMerlion, the Petronas Twin Towers and the Eiffel Tower to shoot theirvideo, contributing to the spectacular visual feast you see in themashup."
Tan reports that on May 15th, Gays.com experienced a massive distributed denial of service DDoS attack by hackers in an attempt to disrupt the launch of its campaign.
Watch the video, AFTER THE JUMP…