On Monday I posted that Rep. Howard Berman had introduced the Foreign Relations Authorization Act for Fiscal Years 2010 and 2011 (H.R. 2410) late last week,
which covers a broad range of foreign policy and diplomacy issues, one
of which is to "end the long-standing practice of excluding the
committed partners of
Foreign Service officers from the benefits routinely provided to the
spouses and children of officers serving abroad."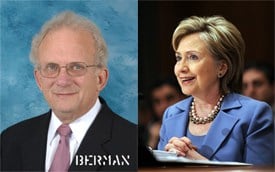 Today, news of developments in that area: "Berman, in a hearing on funding for the Foreign Service, said he
would drop his legislative bid as 'it is my expectation, based on very
recent conversations, that the Secretary of State will move forward
with implementing all of the benefits provided in that provision in the
very near future.' The congressman invited to the hearing Michael
Guest, the former US ambassador to Romania who in 2007 left the Foreign
Service, citing unfair treatment of his partner."
In February, Rep. Tammy Baldwin sent a letter co-signed by Senators
Russ Feingold and Ron Wyden, and Rep. Ileana Ros-Lehtinen to Secretary
of State Hillary Clinton asking that inequities be remedied. Clinton said that such remedies were "on a fast timeline."