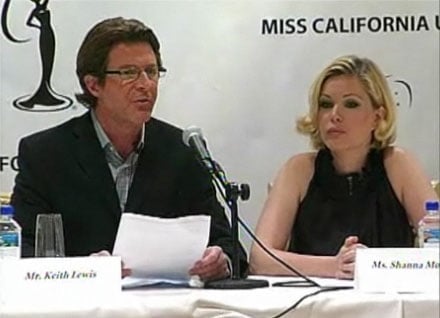 Co-executive directors of the Miss California USA pageant Keith Lewis and Shanna Moakler held a news conference today to announce that Carrie Prejean has cut herself off from Miss California pageant activities and isolated herself. They named runner-up Tami Farrell 'Beauty of California ambassador' since only Donald Trump has the power to remove Prejean's crown.
Said Moakler: "She entered the contest under false pretense. Accepting thetitle comes with the responsibility to represent everyone in her state,not just those who share her opinion."
Reuters reports: "Lewis said Prejean had violated her contract, not for her same-sexmarriage views, but for operating independently of pageant organizers.She had also failed to disclose a topless photo shoot before beingcrowned Miss California. Lewis said pageant officials had been unable to contact Prejean forseveral days because of the new 'handlers' and attorneys nowsurrounding her. She also missed several scheduled appearances as MissCalifornia. He said the last straw came 'when she decided she wanted to moveforward with media interviews despite the fact that her message wasdividing us rather than bringing us back together.'"
Watch a portion of the news conference, at the end of which Lewis tells the National Organization for Marriage that they should be ashamed of themselves, AFTER THE JUMP…